Described as the "Cream of the Crop" when it comes to entertainers, Banachek is the world's leading Mentalist. His talents are so incredible that he is the only mentalist ever to fool scientists into believing he possessed 'Psychic powers' only to later reveal he was fooling them.
Watch Banachek on the UNSCREWED talk show (techtv)

.
.
.
Learn more about Banachek by visiting his Website
.
.
.
---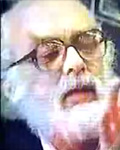 James Randi is a stage magician and scientific skeptic best known as a challenger of paranormal claims and pseudoscience. Project Alpha involved planting two fake psychics, ...
---