Paul Leonard Newman (January 26, 1925 – September 26, 2008), was an American actor, film director, entrepreneur, humanitarian, and auto racing enthusiast. Newman was a co-founder of Newman's Own, a food company from which Newman donated all post-tax profits and royalties to charity.
Watch a gambling excerpt from The Sting in which Newman plays Gondorff, a con man (1973). During the filming of The Sting, famous magician Jay Ose doubled for Mr. Newman's hands.

.
.
.
For more information check out Paul Newman's food company's website.
.
.
.
---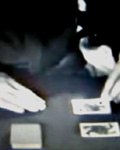 John Scarne began practicing sleight of hand with the goal of becoming a card shark, but his Roman Catholic mother dissuaded her son from gambling ...
---