Richard Turner is an internationally respected card mechanic. He demonstrates the most difficult moves ever devised for cheating with cards. His unparalleled touch with a pack of 52 has been written about in the Los Angeles Times, Dallas Times Herald, and Orlando Sentinel. He has been featured on TV specials around the globe, such as That's Incredible, Ripley's Believe It or Not, The 700 Club, The Paul Daniels Show on the BBC, and World Geniuses in Japan.
Watch a short Documentary about Richard Turner.

.
.
.
Learn more about Richard Turner by visiting his Wikipedia entry
.
.
.
---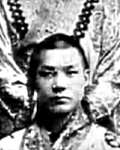 Long Tack Sam, born in 1885 in Northern China, was a world renowned magician, acrobat, and vaudeville performer. His career brought him to the opening ...
---